Chinese ethnic minority villages are undergoing drastic changes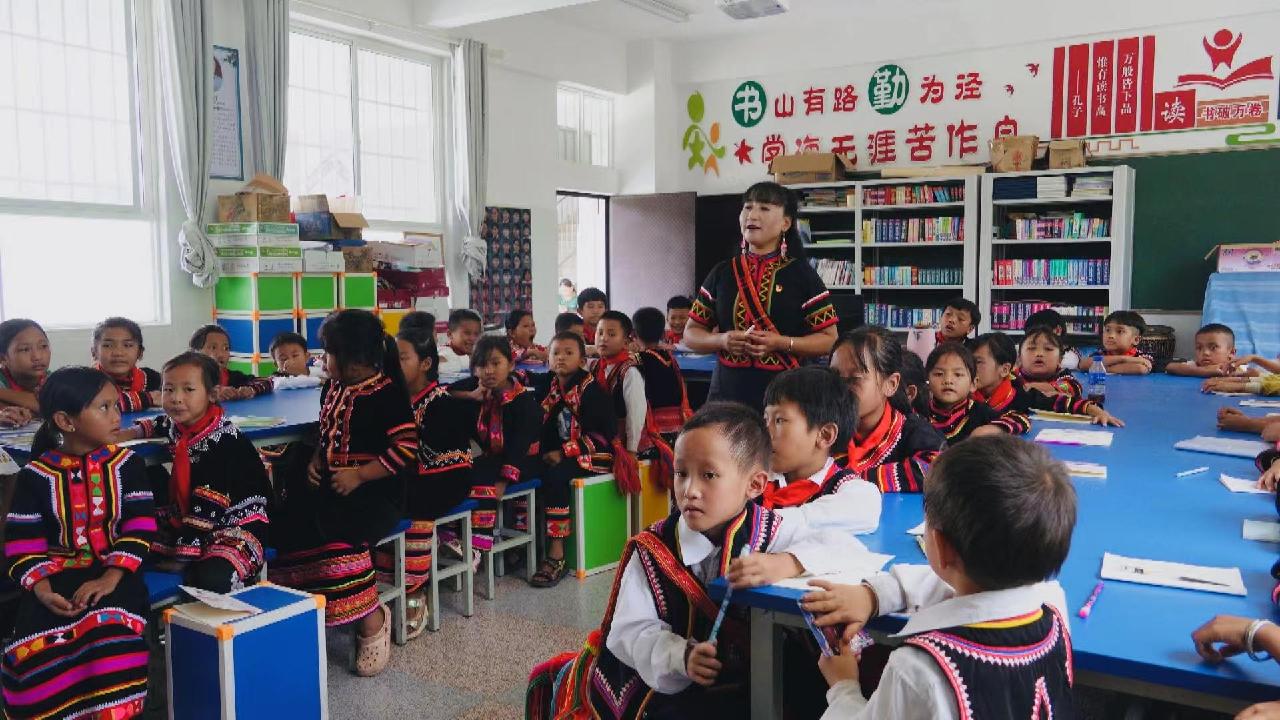 Li Shikai spent a busy week during the National Day (October 1-7) entertaining visitors from all over the country, cleaning rooms, cooking and playing games.
The 59-year-old, an ethnic Lahu from Lancang County, southwest China's Yunnan Province, runs a homestay and restaurant. During this time, he is one of the main members of a performing troupe in his village.
"We never thought that our ethnic songs and dances could attract visitors," Li told CGTN, noting that their income has multiplied thanks to their performance with a unique flavor.
The story of Li's hometown, Laodabao, is not isolated. Over the past decade, many areas inhabited by ethnic minority groups, which were once isolated and disadvantaged for historical reasons, have seen a transition from poverty to prosperity.
Li Shikai makes a bed at home to accommodate visitors. Luo Caiwen/CGTN
Li Shikai makes a bed at home to accommodate visitors. Luo Caiwen/CGTN
Improved infrastructure
The Lahu are one of the "straight-to-socialism ethnic groups", meaning they had lived in a primitive society before the founding of the People's Republic of China.
As Li recalled, they lived a humble life even in the 1990s.
"Back then, we lived in thatched roof houses and didn't have enough food and clothes. There was only one dirt road and it wasn't easy to get out," said he declared. "We even needed a torch at night."
Today, although their houses remain almost unchanged in terms of the main structure, they are much better equipped. Old photos show that once people lived upstairs and cattle were kept downstairs.
Now Li has six rooms at the house, which are often full, as people can drive to the village to enjoy the landscape and distinctive Lahu culture without any problems.
About 50 kilometers away is another well-preserved village inhabited by Blang people. Residents can feel how much the improved infrastructure is changing their lives.
Located on Jingmai Mountain, the main production area for high-quality Pu'er tea, Wengji Village has long been isolated from the outside world.
"Before, no one came to buy our tea because of the bad roads. Some villagers brought it to the market, which was sold for only a few cents per kilo. Today, businessmen and tea lovers swarm here to fresh tea leaves, which can be sold for up to 200 yuan (about US$28.1) per kilogram," San Wen, a local villager, told CGTN.
The 34-year-old now produces his own brand of tea at home. Its products can be easily sold to customers nationwide, with express delivery services available at its doorstep.
Nujiang, a prefecture mainly inhabited by ethnic Lisu, Nu and Dulong, has also experienced a similar trajectory. For decades, locals have relied on steel cables to cross the thundering Nujiang River. Today, the cables have all been replaced by large bridges.
San Wen roasts fresh tea leaves at home. Yang Jinghao/CGTN
San Wen roasts fresh tea leaves at home. Yang Jinghao/CGTN
Characteristic industries
Following the eradication of extreme poverty, the daily needs of the populations are no longer a problem in these areas. The priority is to develop specialized agricultural industries for further revitalization.
Lancang County has seen a lot of progress in this regard. Farmers here have long relied on traditional crops like corn and rice for a living. With the help of agricultural experts, they managed to grow specialty products, such as high-quality potatoes in winter and pseudo-ginseng, a kind of valuable medicinal plant, which brought in handsome income.
Zhu Youyong, an academician at the Chinese Academy of Engineering (CAE), has been helping Myanmar's border county lift itself out of poverty since 2015. He said technological innovation is the key to rural development.
"But exploration should be conducted based on local natural conditions to turn natural benefits into economic profits. We cannot simply copy experience and technologies found to be successful elsewhere," Zhu told CGTN.
This year, Zhu led a team to pilot the cultivation of paddy rice in the arid areas of some villages, which had a bumper harvest. The innovative program should further guarantee the food security of local farmers.
In Wengji, the tea industry has been upgraded from simply supplying fresh tea leaves to selling fine tea products. The trendy mode of selling via live streaming is also driving the growth of the industry.
In particular, what is being done in the village of Laodabao was applauded. Before the performance company was established in 2013, villagers sang and danced just for entertainment and never thought it could be a way to earn money.
Today, the company has more than 200 members, all villagers, including people in their eighties. On average, each member can earn at least some 10,000 yuan ($1,405).
"In this way, our ethnic culture can also be transmitted from generation to generation," said Li Naluo, vice president of the company.
Laodabao villagers in Lancang County perform for visitors. Yang Jinghao/CGTN
Laodabao villagers in Lancang County perform for visitors. Yang Jinghao/CGTN
Accessible educational resources
During China's poverty alleviation campaign, the importance of education has been emphasized. Today, all children in these areas can benefit from free nine-year compulsory education.
San Wen, from the Blang ethnic group, still feels sorry for himself when talking about this. Like many of his peers, he did not complete primary school. Before returning home to the tea trade, he did labor-intensive work to earn a living.
"Now I can send my children to school in urban areas. I had never thought of that before," he said.
When he was young, he only spoke their Blang language. Today, her children are fluent in Mandarin Chinese and even have access to learning English.
Besides basic education, local governments also attach great importance to vocational education. In Lancang, a new vocational school has been created in collaboration with a counterpart in Shanghai.
Local government officials told CGTN that some CAE academics will continue to provide educational resource support to the school. And what makes it special is that the school will provide special training in related farming techniques to local farmers.
People have also often understood that education is the key to the sustainable development of their home town.
"If the younger generation can inherit our traditional tea-making skills, with the modern knowledge they learn, I think they will do much better than us, in terms of packaging and marketing," San Wen said.
(Cover photo: Students from Laodabao village attend a Lahu language lesson. Luo Caiwen/CGTN)