COLUMN: Leafs fans, don't languish. Next year is our year!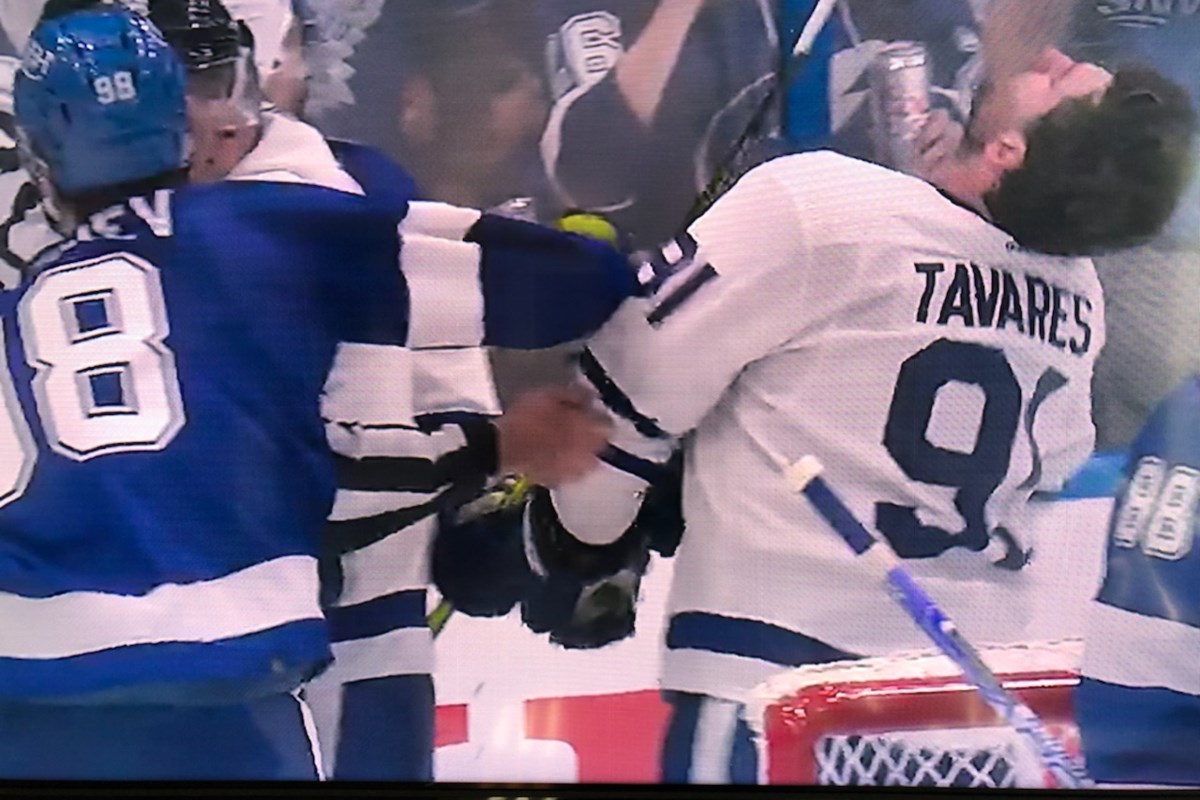 Two-time champion Tampa Bay, now winner of 10 straight playoffs, 'is just a little talented, no,' asks columnist, who thinks better days are ahead
It's wonderful to be a Montreal Canadiens fan. Our run for the 2021 Stanley Cup was so spectacular that the NHL gave the Glorious a bye to 2022.
Conversely, discouragement and desperation reign in Leaf Land, "Five straight first-round losses… haven't advanced since 2004, etc., etc."
It's not mockery – those lamentable moans are far exaggerated.
It's time to exorcise those demons, because absurd is the premise that this interpretation of the Leafs – players and management – and, everyone since '67, for that matter, are somehow complicit and culpable in the perverse perception that history of this team is heartbreaking. , when in fact it is anything but.
How come some semblance of responsibility for 1980s Ballard antics is piled on the current roster, most of whom learned to skate in the 1990s?
Every spring, it's Eeyore City, so monumentally glum and blind to the harsh reality that the Leafs actually face an NHL-caliber opponent, in the playoffs, with its own expectations and angst. Two-time champion Tampa Bay, now 10-straight playoff winners, is just a little talented, isn't it?
Moreover, that "Just like the Leafs" mantra, powerfully ingrained as a metaphor for failure, rewinds those 55 years to Armstrong and Pulford, Mahovlich and Keon, with that '67 Cup, far too quickly.
It ignores many memorable moments along the way… Sittler, Salming and Lanny upsetting the Pre-Dynastic Islanders in 1978; Pat Burns, Gilmour and Wendel in 1993, then again in 1994; and, Pat Quinn's perennial favorite crew of the final four from 1999-2004.
And, this Montreal affair last May? … note that the first overall Lightning were swept in the first round by the bland Blue Jackets in 2019, before winning the Cup in 2020 and 2021. Many eventual champions (Islanders, 1980; Avalanche, 1996; Red Wings, 1997; Oilers, 2022?) stumbled along the way.
Shit also happens elsewhere.
Then suddenly it doesn't work anymore.
Toronto blue line QB Morgan Rielly was perfectly candid last spring: "We just have to be better.
And, they were.
There's no doubt that the Leafs' effort in Game 4 was unfortunate, but with it how palpable the onset of nervousness was on Hockey Night in Canada's ("HNIC") in Chris' play-by-play Cuthbert: "That's two goals over Campbell in just seven shots… Matthews and Marner only managed one shot between them.
Between periods, Ron MacLean and the panel were downright clueless because, Leafs fan or not, WE ALL WANT THEM TO WIN!
And it's not because we feel sorry for them.
It's that the Toronto Maple Leafs winning the Stanley Cup is eternal folklore, passed down to so many Canadian sons – of Clancy, Conacher and Kelly, and Barilko, Bower and Baun – by too many fathers whose days are sadly in the process of to decline. That '67 Cup was the Leafs' fourth in six seasons and eighth in 20.
A cursory examination of Game 6 easily reveals that the Leafs did not fail to finish Tampa. On the contrary, they showed heart as they came back from a 2-0 deficit, rallying to a 3-2 lead. Unfortunately, a two-man disadvantage on two fairly skilled penalties, on a Toronto team that wasn't playing soft, cost them midway through the third period. In overtime, beating Tampa 9-5, it was barely a folding of their tents.
It should be noted that if a teammate had sought revenge for the assault on Toronto captain John Tavares by Tampa's Mikhail Sergachev, the team's fourth game would have been lifted in a nutshell. Occasionally, a nice crash is fortuitous. It's no coincidence that in the mid-'70s, when Montreal's Larry Robinson put out Broad Street bully Dave Shultz, it marked the end of the Flyers' reign of terror and catapulted the Canadiens four consecutive cups.
More appropriate here, I have a vivid memory of a livid Leaf captain, Darryl Sittler, chasing Philly's Bobby Clarke after a spear to the throat, then enthusiastically battling Flyer enforcer, "Moose" Dupont, stepping in at the Clarke's name, in a rowdy If Tavares had erupted like Sittler did, in those mid-'70s playoffs, Toronto would still be playing.
How Conn Smythe's folklore "If you can't beat 'em in the aisle, you can't beat 'em on the ice" still resonates.
Nevertheless, this Toronto team has a core as talented as exists in professional sports, which is learning and maturing, but, more importantly, which has not yet reached its peak.
The problem is that there are too many dollars on too few players. Rare is the salary cap room to upgrade the 115-point roster, let alone maintain it. However, and, this is a big "however," the contracts in question — $11 million a year at Tavares, Auston Matthews and Mitch Marner — were negotiated before the pandemic. From 2013 to 2019, the cap has increased at an average annual rate of more than 5%, a factor no doubt fundamental to sound deliberations in terms of dollars and duration before transactions concluded.
If COVID hadn't completely flattened the cap over the past three seasons, it might have been north of $95 million, not $82.5 for 2023. Luckily, there's enough talent in the $11 million to get things done.
The failure of Maple Leaf president Brendan Shanahan's teams to win a playoff round during his eight-year tenure may be a misdemeanor, but not a crime. In fairness, he inherited a top-notch crew competing in a league of 30 teams then, now 32.
This frenzied fervor for four first-round wins is a froth-mouthed fanatic. It takes 16 wins to become the Stanley Cup champion; the other 31 are tied for last, regardless of innings won. Ignore the four, this team's views are on the 16.
Coach Keefe's "borderline violent" assessment of the series in its early days is concerning, suggesting he is out of touch. Dressing Wayne Simmonds and Kyle Clifford in front of Jason Spezza confirmed that. Auston Matthews' mismanagement of ice time was also troubling, and did Toronto's sad shot blocking create a question as the Leafs weren't all-in for the coach?
Progress beyond the current pain is best highlighted by Spezza: "We're a different group…stubborn not to accept losing…It's definitely in the room."
It sounds like a wise voice that players could lean on and sacrifice for.
Maybe Morgan Rielly would make a good captain too; he just had a good fight in the playoffs. Mark Giordano has just followed his example, and that of Spezza too, by signing a "team friendly" agreement, close to the league minimum, which takes the pressure off.
Could the 11 million men now reconfigure theirs?
Anyway, enough of the infamous negativity, it says here, they'll win it next year.
You can hear a kid of today say to his kid of tomorrow: "They played Hip's Fifty Missions Cap before each game, with blue and white jerseys, #5 everywhere. Bunting scored the OT winner, playing on a broken ankle, and "Soupy" Campbell stood on his head in the net, winning the Conn Smythe without even a fight.
Dude…you should have seen it!