DIPR's Kashmir Cultural Unit holds a grand ceremony to celebrate "Youm-e-Ustaad Mohammad Sultan Bhat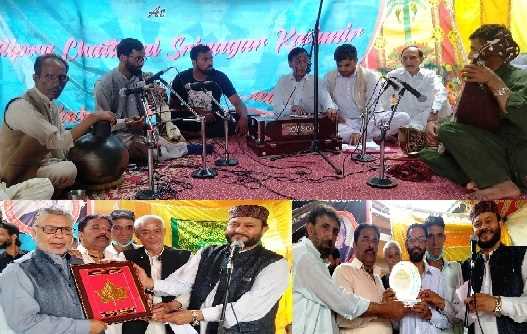 The Srinagar DIPR Cultural Unit today held a grand ceremony to commemorate "Youm e Ustaad Mohammad Sultan Bhat", a legendary Sufi poet and folk singer whose mausoleum is located in the Chattabal district of Srinagar.
The cultural unit organized the ceremony in collaboration with JKAACL, the Ustaad Mohammad Sultan Bhat memorial and the folk music society.
On occasion, devotees, Sufi music lovers and literary figures gathered at his mausoleum to celebrate the day.
Renowned Kashmiri folk singers performed Ustaad Mohammad Sultan Bhat's Sufi Kalaam and other folk songs. Rashid Hafiz, Mohammad Abdullah Shaksaz, Ama Kachroo, Gulzar Ganai, Gulzar Mir, Farooq Ganai, Gaffar Kanihami, Rafeeq Dar and artists from the Cultural Unit of the Department of Information and Public Relations, Gh Mohammad Bhat, GM Kanday, Faroze Ahmad shah mesmerized the audience with their melodious folk songs.
A large gathering of people witnessed the day-long program and cheered the organizing departments for preserving and promoting traditional Kashmir folklore.
Later UMSMC President GN Matta, Vice President Fayaz Ahmad Warsi and GG Folk Music Society President Gulzar Ganai presented memorabilia and lifetime achievement awards in memory of Sufi music legends, late Gh Ahmad Sofi, Late Gh Hassan Sofi, Late Gh Mohammad Shaikh, Ustaad Mohammad Abdullah Tarbali, Late Gh Mohammad Kawa and others