Disabled Chinese poet's wedding plan sparks cheers and boos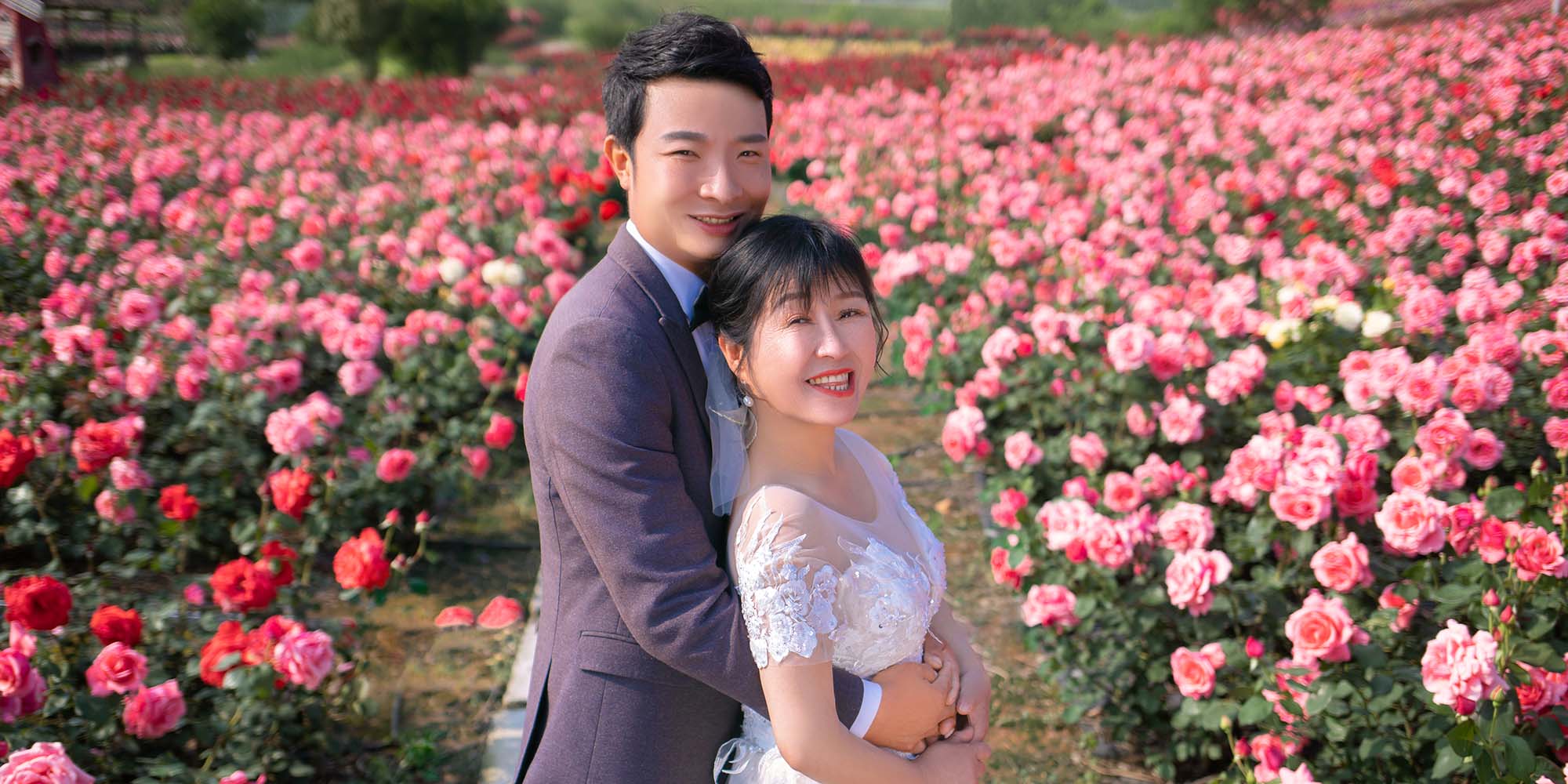 Yu Xiuhua's views on sex and relationships have often been called "vulgar." Critics disparaged his writings centered on love and lust. Many said she would never find love again after a divorce.
But the acclaimed poet, who has cerebral palsy, proved her critics wrong.
On April 29, the 46-year-old announced her wedding plans to Yang Zhuce on short-form video platform Douyin, prompting a chorus of jubilation from fans and mockery from critics. Wearing a white wedding dress, Yu was seen leaning against Yang, donning a suit, as they posed for photos in a rose garden.
"Love is a mystery, so is life," Yu wrote in the video's caption.
Yu, a farmer and writer from central China's Hubei Province, rose to fame in 2014 with her literary works exploring her experiences with disability and her desires. She candidly wrote and spoke about them at public events, gathering female fans who admired her views that challenged mainstream views.
"I'm not in pursuit of women's liberation, I'm just in pursuit of my personal liberation," Yu said on a popular talk show in 2018. save a group of people, because the example that people see of you is an encouragement for them.
This week, Yu embodied that very example, shaking off the shame often associated with broken marriages and the perceived hopelessness of finding love for people with disabilities. The writer has been constantly criticized online for abandoning her husband and son after rising to fame.
Yu was married off by her parents when she was 19 and lived in a "loveless marriage" for more than 20 years. She eventually decided to file for divorce, with the separation saga becoming the subject of a documentary by filmmaker Fan Jian titled "Still Tomorrow."
Since her divorce in 2015, Yu has openly expressed her admiration for men in the literary and artistic world. She wrote romantic poems, sometimes professing her love for famous folk singer Li Jian although she received no response in return.
"Your silence makes me like it more," she wrote last November. "I love the iron tree that does not bloom, I love the stone that is cold."
Four months later, Yu declared his love to another man, opening up about his relationship with Yang. She didn't reveal any personal details about her other than they met during a live event on Douyin last year.
She did, however, write extensively about her emotions of falling in love, as well as enjoying sex for the first time.
"I discovered that flesh could be so beautiful, shattering my inherent aversion and suspicion of the male body," she wrote. "As a human being, I have no regrets now."
Throughout the Labor Day holiday, Yu shared more photos from the couple's photoshoot where the pair were seen holding hands or hugging. However, the writer did not reveal if the couple had legally registered the marriage.
Nonetheless, a related hashtag about Yu and Yang's wedding had been viewed more than 22 million times on microblogging platform Weibo as of Thursday afternoon. While some criticized the writer and pointed out the couple's perceived age gap, others mostly praised and supported him.
Xu Yuexia, a 54-year-old man from Quzhou City in eastern Zhejiang Province, was one of the supporters. Like Yu, Xu said she also found the courage to divorce her husband last year and wrote poems about her life afterward. She shares them on her WeChat account titled "Old Xu's Secondary Life."
"Sex and love are definitely what every woman wants, but they are hard to come by," Xu told Sixth Tone. "Most women are wrong in motherhood."
"Every woman in China shares the same psychological struggle as Yu," she added. "I hope this new relationship can make up for her previous dissatisfaction."
Publisher: Bibek Bhandari.

(Header image: One of Yu Xiuhua's wedding photos. From @余秀华 on Weibo)