Ethnic minority managers face over £4,000 pay gap, analysis reveals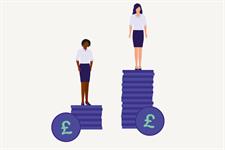 Employees from minority ethnic groups experience significant pay gaps in senior positions, with some exceeding £4,000 a year, research shows.
Analysis of previous Business in the Community (BITC) workplace race surveys found that managers of black African, Chinese, Indian, mixed-race, Pakistani and Bangladeshi descent experience higher pay gaps than employees in the workplace. other ethnic origins.
The research found that managers of Chinese descent faced the largest average annual pay gap of £5,911 and received a median annual gross income of £22,500.
---
Reclassification of SME reporting requirements risks 'stepping back' for women, unions say
Report finds two-thirds of UK workers would seek new employment if employer did not prioritize DEI
Why UK companies should link executive pay to ESG
---
While acknowledging that some organizations are speaking out and leading the way in taking action on ethnic pay disparities, Dr Jummy Okoya, Associate Program Leader at the University of East London, said: "Most organizations don't don't prioritize the issue because the ethnic pay gap isn't made mandatory. Therefore, it is not considered an urgent priority, or for some, the problem is completely missing from the priority list.
"Many are in dreamland of hosting diversity and inclusion events and feel proud to have D&I sorted," Okoya said, adding that "going beyond diversity with a focus on pay and experience equity for minority groups is the starting point for eradicating the ethnic pay gap".
Data showed that managers of Pakistani or Bangladeshi descent saw an average annual pay gap of £4,186 and a median annual gross income of £17,500, while managers of Black African descent faced a average annual earnings of £2,134, and a median annual gross income of £32,500.
---
Get more HR and labor law news straight to your inbox every day – sign up for People Management's PM Daily newsletter
---
Managers of Indian origin in turn identified an average annual pay gap of £1,170 and a median annual gross income of £22,500, followed by managers of mixed background who faced an annual pay gap average of £1,164 and a median annual income of £22,500. annual gross income of £27,500.
With the cost of living crisis adding further financial pressure, BITC urged employers to ensure equal pay and eliminate ethnic pay gaps in jobs at all levels of the organization.
Sandra Kerr, race director at BITC, said the charity had called on the government to introduce mandatory ethnicity pay gap reporting and take action to address unacceptable pay gaps .
"If the government doesn't make reporting mandatory and we rely on voluntary action, our research shows we could be waiting until 2075 for the real ethnic pay gap in the UK to become known," Kerr said. .
Echoing this, Suki Sandhu, CEO and Founder of INvolve and Audeliss, said that although there is currently no legal mandate, companies taking EDI seriously should step up and report their deviations from ethnic compensation.
"In fact, INvolve recently found that 95% of employees are willing to share the data companies need to report their ethnic pay gaps, which is incredibly encouraging and suggests a real appetite for change and transparency in business." , Sandhu said. adding that "we have seen how reports on the gender pay gap have impacted women's representation, we need the same boost for ethnically diverse employees".
In addition, the CIPD has also stated in its guidance for UK employers on ethnicity pay reports that in the absence of legislation, "employers should aim to voluntarily compile ethnicity pay reports ethnicity as part of their organisation's approach to improving inclusion and addressing inequalities in the workplace".