Experienced incumbent takes on energetic young challenger in Española mayoral race | Local News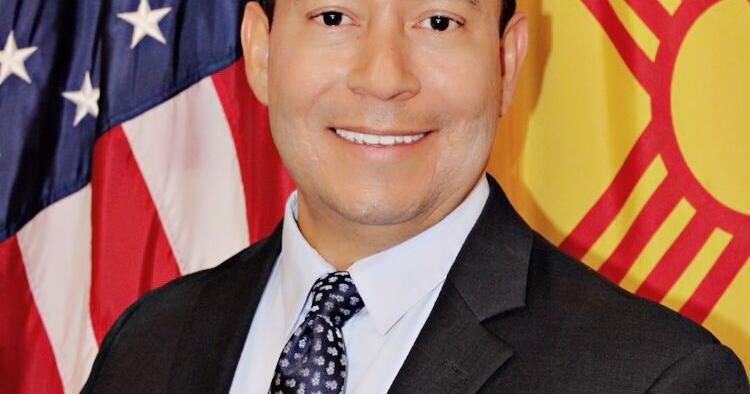 Tuesday's mayoral election in Española pits a 48-year-old incumbent against a 26-year-old councilman, each offering a different vision of what the northern New Mexico town is and can be.
The race between Mayor Javier Sánchez and Councilman John Ramon Vigil has been heated, with the challenger promising to get Española "back on track" and the mayor countering that voters are ready to "leave behind the skeleton of some of the policies of old school and moving forward with people who have merit in leadership.
Some of Sánchez's supporters accused Vigil of being the personification of a "quid pro quo" culture that the mayor said he spoke out against during his first term.
But Vigil said any claim that he is part of a "good old boys" club is ludicrous, calling it a political tactic to smear his candidacy.
"I was born and raised in this community," Vigil said. "I have been passionate about this community all my life. I have great relationships with people once I know them, and when I do something, I give 150% of my time and effort and more.
Vigil said he will work to increase public safety and access to water and sewer lines in some of the more rural neighborhoods within the city limits. He also wants to relaunch a project from the early 2000s to build a regional wastewater treatment plant in the Española Valley.
The dichotomy between the two men is striking: Although young and in his first term on the Española City Council, Vigil is a local realtor with a degree in history and business administration from New Mexico Highlands University. When he was elected to represent District 2, he was among the youngest city councilors in the state.
He also served on the Jemez Mountains Electric Cooperative Board and the New Mexico Highlands Board of Regents from 2017 to 2019. He said he has been involved in public service since he was 14 years old.
"I always imagined more for Española," Vigil said. "I know he is capable of more than he has been in the past."
Sánchez was elected mayor in 2018, despite being a Republican in a heavily Democratic Española. A resident of the city for more than 25 years, he holds a bachelor's degree in philosophy from Yale University and a master's degree in business administration from Notre Dame. He was previously an analyst at David Funds, but now helps run local restaurant La Cocina.
Both candidates acknowledge that Española is still grappling with issues that have long plagued the government – ​​crime, economic development and drugs, to name just three – but say their methods will bring better results. .
"If we can maintain consistency, I think that's how we break down the walls of any kind of habits that we have to break," Sánchez said. "By that I mean being consistent and allowing managers to do their jobs, but also keeping their feet on the fire."
The battle between Sanchez and Vigil extends to members of the Española City Council, whose loyalties appear to be divided.
Councilman Justin Salazar-Torres, who supports Sánchez, said the mayor's four years have paid off for the city. He cited the mayor's ability to secure funding from the state Department of Transportation to repair a road in his district as evidence of the city's progress.
"One of the things we've heard through the grapevine is that the Española aren't helping each other," Salazar-Torres said. "The mayor was able to get out there and get funding for these road projects."
Among the projects Sánchez has said he wants to bring to the city is an amphitheater in Española Square. He said it's critical the city has a number of projects ready to go when federal infrastructure funds begin to come in the pipeline.
"We need to be able to put the people of Española front and center and not behind the scenes," he said, adding that he hopes to create more office and industrial space to make the city more attractive if the Los Alamos National Laboratory is looking for other areas in which to grow.
"I want us to be ready at the front door of this opportunity," he said.
But Vigil said he was concerned about the lack of communication and "follow-up" from the Sánchez administration, as well as what he said was a lack of strategic planning for the city's future.
He also described the current regime as hesitant to accept too many outside suggestions.
"A constant problem is only in day-to-day business," Vigil said. "It's those core services – the cog and bolt stuff. This has always been my priority. »
Councilwoman Peggy Sue Martinez said she supported Vigil because her youth and energy would come in handy at City Hall.
"I think he will do great for our city and our community," she said. "What sets him apart is that he is very committed, very passionate and very energetic. I think if he is our next mayor, we will be well placed.
Martinez said she was particularly interested in a proposal that would set up an independent commission to help vet candidates before the mayor nominates them for nomination. The mayor appoints the chief of police, the city manager, the city clerk and the city attorney.
"I admire that," she said of Vigil's support for the idea. "I think that's a really different way of thinking, and I admire that he wants to do that. … He will still make that appointment and the ratification will be through the governing body.
Vigil has been controversial in Spanish: in May 2020, a criminal complaint was filed in the Rio Arriba Court of First Instance accusing him of three crimes: conspiracy, illegal interest in a public contract (more than 50 dollars) and refusal to pay. helping an officer.
The charges against Vigil were ultimately dismissed without prejudice, meaning they could be refiled.
The charges stemmed from Vigil's alleged involvement with Rio Arriba County Sheriff James Lujan and Phillip Chacon, a former candidate for city council who was then being investigated on suspicion of multiple batteries.
According to the complaint, after Española Police detectives acquired Chacon's phone, communications between Vigil and Chacon were discovered.
In a text to Vigil and Martinez, Chacon wrote that he would pay $25,000 if they found a way to fire City Planning Director Richard Hubler, according to the criminal complaint.
A city ethics commission was formed to investigate but never fully materialized.
Vigil declined to comment at length on the charges before describing them as politically motivated.
"They were found by a prosecutor's office to have no legal basis," he said. "It was an abuse of power, and I attributed much of it to the nefarious political activity of the current administration. I am grateful that many people in our community did not believe it.
Sánchez has also been controversial: Shortly after winning the mayoral race in 2018, the husband of one of his opponents filed a complaint with the secretary of state's office alleging that Sánchez was living outside the city limits. the city of Española, disqualifying him from the office of mayor.
Critics said it was an example of lack of integrity. Sánchez said that when he applied, he listed his address at what was once the home of her late husband's grandmother.
After her death, he and his husband moved into the house with the intention of buying it, but the process was delayed by a reverse mortgage that caused problems, Sánchez said.
He said that right now he divides his time between his residence within the city limits, but also takes care of his mother-in-law at a house in Lower San Pedro.
Although he called the relationship between him and Vigil "controversial", Sánchez said he had worked to strengthen ties on the board. He said officials must be prepared to set aside political reservations for the good of the city.
"Communication hasn't gone well both ways, but I've been trying at the same time with all of our advisers to make what they want happen," he said.
Vigil said collaboration is the key to success if Española is to continue to build momentum and strengthen ties, both within municipal government and with the public.
"It's all about relationships and building that trust," he said before pausing.