It's Operation Candy Cane week! MyClallamCounty.com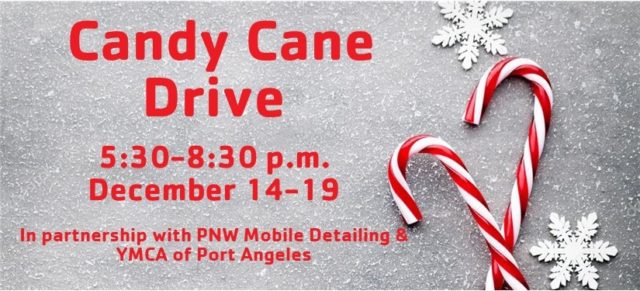 PORT ANGELES – The day after last month's announcement that the Port Angeles Fire Department would not be conducting Operation Candy Cane this year due to concerns over exposure of first responders to Covid-19, a local company has decided to step up and continue the decades-long tradition starting tonight at 5.30pm.
PNW Mobile Detailing is partnering with the YMCA of Port Angeles to collect donations for the food bank using the same model that has worked so well for firefighters over the years, and will follow the same neighborhood street routes over a period of 6 days tonight through Saturday.
Owner Katheryn Murray told us on Monday what to watch and listen to tonight in the neighborhood west of First and M streets.
"There are Christmas carols provided by the YMCA and there will be lights all over my vehicle, with a beautiful display of balloons with lights, provided by Joyful Events and Balloons, and just a parade of decorated vehicles. And cowbells. Cow bells.
So listen to the singers and the cowbells. Murray says they will donate candy canes and everyone in the convoy will be masked. They ask people in the neighborhood to do the same when driving by asking for canned goods and other non-perishable foods.
The remainder of this week's schedule will cover First and L streets to C Street tomorrow, C Street to Lincoln Street Wednesday, Thursday it's Chase Street to Chambers Street, Friday it's Jones Street to Golf Course Road, and they will finish on Saturday above Boulevard Lauridsen.