Troubled Púca statue becomes 'perfect lair' in the Burren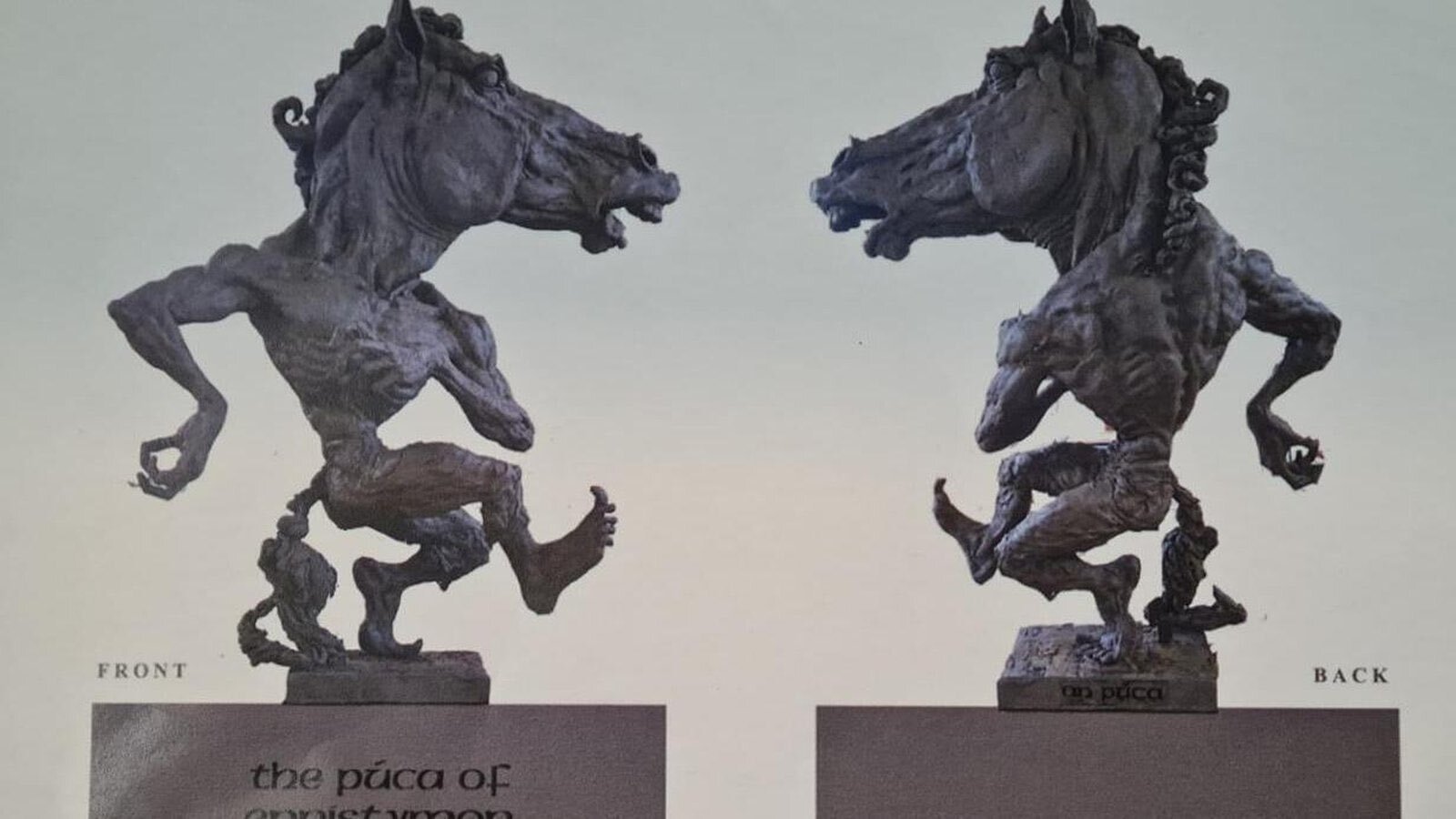 A controversial statue of a Púca will be moved to a new home in the middle of the Burren after plans for it to be placed at Ennistymon were scrapped.
The two-meter-tall bronze art statue, inspired by Irish folklore and the equine heritage of Ennistymon, sparked a lot of controversy when it was announced last year.
The statue was commissioned by the local authority in 2021 as part of a capital investment to increase visitor stay time and improve the town's appearance.
However, Clare County Council confirmed it would not proceed with the project after many described it as 'offensive, frightening, grotesque' and not in keeping with the town's history or culture.
Over 720 poll responses were received on the divisive statue, with 43.5% saying they "really didn't like it", compared to 34.3% saying they "really like it".
Today Clare County Council confirmed that the statue will be moved to the Michael Cusack Center in Carron.
The center was one of two claims that went through an arbitration process before the decision was made
The judges said locating the statue at the Michael Cusack Center would have "mutual added value" for both the facility and the community-run tourist attraction, the location of which was historically called Poll a Phúca .
"The Michael Cusack Center has demonstrated its compatibility with bringing the Púca into its natural habitat, confirming the interpretive element and story that will be told through the development of an educational aspect of the tourist attraction providing information about Irish tradition and the folk collection of the Púca," the judges said.
Ballyvaughan Community Development Group also applied, but its proposed position off a regional road and the 'lack of pedestrian access and adequate lighting around the site' were described as 'premature'.
The center also proposes to organize an annual Samhain/Púca storytelling festival on November 1st.
The statue's creator, Aidan Harte, said people could see the statue 'finally'/
"The Burren has always been a hideout for renegades and outsiders, so it's the perfect lair for a thief fairy," Mr Harte said.
"After last year's uproar, all of Ireland knows the Púca's reputation as a spoilsport is well deserved, but now, at last, people can go see The Scare from Clare for themselves," said he declared.
"Of course, anyone brave enough to rub the Púca's toe will be lucky seven years old. And as for the locals who have kindly given my lovely horse a home, they will be lucky – hospitality is golden for The Good Folk," Mr. Harte added.
Dónal Ó hAiniféin, Cathaoirleach of the Michael Cusack Center board, said he was "delighted" that the bid had been accepted.
The Púca is scheduled to be erected at the Michael Cusack Center in June.